PureChat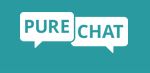 The Best-Selling Live Chat Software for Small Business
Live chat and visitor tracking software has never been easier.
Close More Saleswith simple live chat software
Provide instant answers on your website and see visitor history.
See who's on your website in real-time and start a conversation.
See chat metrics over time and track customer satisfaction.
Record every conversation and share them with your team.
Check out others who we recommend - solid vendors and products that could benefit your business today.